Welcome to Phoca Restaurant Menu Demo Site. Phoca Restaurant Menu is a Joomla! component (running on Joomla! 1.5, 1.6, 1.7, 2.5, 3.0, 3.1).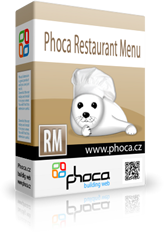 See following examples which were created by Phoca Restaurant Menu component:
Daily Menu ( Tagesmenü )
Breakfast Menu (Frühstücksmenü)
Lunch Menu (Mittagsmenü)
Dinner Menu (Abendmenü)
Click on PDF icon to test creating PDF document or click on Print icon to test page which is ready for printing. Switching languages function is created with help of Joom!Fish component and Phoca Restaurant Menu plugins in Joomla! 1.5. Since Joomla! 2.5 the standard multilanguage Joomla! core function is used.
Template is Phoca Restaurant Menu 3 Template.
PDF is created by Phoca PDF component and Phoca PDF Restaurant Menu Plugin.
Displaying images feature is made by Phoca Gallery component (Click on image to resize it).
See Joomla! 2.5 and Phoca Restaurant Menu demo site too.
RSS feed can be displayed for Daily Menu and Weekly Menu. Such feed can be used for displaying menu on Facebook or Twitter (be aware, Facebook and Twitter display only plain text)